Program Overview
Curriculum
MCIT Online students must complete six core courses and four electives. It is recommended that students take the core courses in sequential order. That said, students do not need special permission to take courses out of sequence so long as prerequisites and corequisites are followed. Note that new students must take CIT 591 in their first semester, and students must pass and complete four of the core courses before registering for electives.
Core Courses
(Course descriptions can be found on the MCIT Online Academics Page)
-CIT 591 Introduction to Software Development
-CIT 592 Mathematical Foundations of Computer Science
-CIT 593 Introduction to Computer Systems
-CIT 594 Data Structures & Software Design
-CIT 595 Computer Systems Programming
-CIT 596 Algorithms & Computation
Important notes regarding core courses:
When students have passed and completed 4 of the 6 core courses, they may register for electives so long as they have fulfilled the electives' prerequisites.
If a student receives a W or a grade below C- in a core course, that course needs to be retaken.
Electives
MCIT Online students must also complete four graduate-level electives. A full list of electives can be found on the MCIT Online Academics Page.
Academic Calendar
MCIT Online students should follow the MCIT Online Program Calendar schedule rather than the University calendar.
Course Experience
You may have taken online courses on websites such as Coursera or edX as a MOOC learner. Although MCIT Online is hosted on Coursera, your experience as an admitted Penn student will be different from other online courses that you may have taken in the past. In this section, we will cover what you can expect during a typical MCIT Online course.
Timing
Your online course material will be organized into modules, which are groups of lessons forming a larger unit of learning. Each module typically corresponds to one week in the course. Most or all of the lecture videos will be available as soon as the course opens; however, the assignments will become available based on their due dates. You are free to work ahead by watching videos, but please note that the course staff will prioritize the current week content by responding within 24 hours while future week's content and assessments may take longer to respond to. Course staff will not be available to answer questions regarding future modules until the corresponding assessments have been unlocked.
In order to stay on track, it is important to be mindful of any deadlines throughout the week. There are some tools built into our program to assist you with this. Every time you log into your MCIT Degree Home Page on Coursera, you will be able to see a list of upcoming due dates. To find the full list of due dates within a course, click on the Grades page. You'll also receive automated reminders about assignments that are incomplete when deadlines are approaching.
Keep in mind that there may be times when a portion of an assignment is due earlier in the week in order to provide you with early feedback, and you may need to complete a reading or watch a video before you can do that assignment. It's critical that you stay on top of deadlines and find strategies for managing your time so you don't fall behind. Leave yourself enough time to gain confidence with what you're learning!
Structure
Our courses are made up of lecture materials that your instructors created to teach you key concepts. You'll also be learning from videos or other resources, including guest lectures, valuable websites, or other relevant materials your faculty has curated to help you learn. You will be able to stream or download course materials and videos for offline viewing. However, note that downloaded material from MCIT Online courses may not be distributed.
In addition to readings and recorded lectures, you will also have regular assignments and graded activities throughout your courses that will ask you to synthesize what you are learning and put it into practice. This may include quizzes, assignments, individual and group projects, coding assignments, topics to debate, and optional synchronous recitations. Of course, each course is influenced by the personality and the style of the instructor who is leading it, so you will notice some differences across courses.
Grading
The course instructor has full discretion with regards to assignment and course grading policies. Please see the individual course syllabi for details.
No course may be retaken to improve a grade of "C-" unless the content is different. However, students may complete additional work, with the instructor's permission, to improve this grade. Graduation may not be postponed for grade improvement if all other graduation criteria are met.
Upon completion of the course, please note that the grade posted in Coursera is not the final grade for the course. Your final grade will be published in Penn InTouch.
GPA Scale
The GPA scale for Penn Engineering is as follows:
A+
A
A-
B+
B
B-
C+
C
C-
D+
D
F
4.0
4.0
3.7
3.3
3.0
2.7
2.3
2.0
1.7
1.3
1.0
0
Course Incompletes, Retakes, NR, GR, and Failures
The mark of "I" is used to designate an Incomplete, "NR" for No Report (no grade submitted), and "GR" (student was not present in class though enrolled). Students cannot graduate with an "I," "NR," or "GR" on their transcript.
A grade of "F" cannot count towards the course requirements.
In rare cases and under unique circumstances, an instructor will work with a student towards the end of a semester to arrange for an Incomplete "I" grade in which the student completes the course after the semester has ended. The following rules apply:

The incomplete course must be completed in the next semester that the course is offered. If the course is not completed within this timeframe, the grade will be changed to F. The summer semester can be skipped since it is an optional term.
Students must confirm with the program staff that they intend to participate in an Incomplete course up to one week before the first day of the semester. If the staff has not received written confirmation by this date, the student will not be eligible to participate that semester.
If the student chooses to complete an Incomplete course during the optional summer semester, they can opt out of the course with no penalty before the drop period deadline listed on the MCIT Online Academic Calendar. Students can opt out by notifying the program staff in writing.
No course may be retaken to improve a grade of "C" unless the content is different. No grade lower than a "C-" will be counted in "core" courses and those courses must be retaken.Graduation may not be postponed for grade improvement if all other graduation criteria are met.
If a grade of "D" or "F" is received in a core or required course, which prevents graduation, the student has three options:
At the discretion of the instructor, the student can work with the instructor to improve the grade to "C" or higher with additional course work.
At the discretion of the instructor, the student can retake the course by attending the course again (in a subsequent term) without registering or paying additional tuition, and will receive a grade change if earned. Please note attending again or sitting in on the course does not count towards full-time status.
If the instructor does not agree to either (1) or (2), the student can register and pay tuition for the course again. Upon successful completion of the course with the same instructor, the original registration will be changed to "withdraw."  (The original course will not be counted toward graduation or GPA. Engineering will not allow the course to be counted twice toward the degree.)
Extensions
Extensions on coursework, beyond what the late policy mentions, are only granted if the student is experiencing extenuating circumstances that make it impossible for them to complete their work on time. Types of extenuating circumstances include but are not limited to:
Medical Issues & Emergencies
Death in the family
Natural disasters
Extension requests that are typically NOT approved are:
Work conflicts
Weddings
Vacation
Multiple extension requests. If you find that you are needing many extension requests, please reach out to the Student Affairs team.
Students will submit extension requests through a Google Form. The links will be available in each of the courses' resources.
Extensions must be requested at least 48 hours ahead of when they are due to be considered for approval.
Please see the individual course syllabi for specific course details regarding extensions.
Course Team
Instructors and teaching assistants will be active participants in the course along with you and will be responding to your questions and providing feedback on the work you complete.
Instructors will offer live sessions on a regular basis via Zoom. Instructors will also send out video updates throughout the semester with feedback on how the course is going.
TAs will be available to answer questions in the Discussion Forum of each course. You can expect a response from the course staff within 24 hours, unless your question is answered by a fellow student. TAs will also offer private office hour sessions via Zoom each week.
TAs will also offer optional recitations on a regular basis. In these sessions, TAs will demonstrate sample problems, provide supplemental materials and answer questions in real time. The links for these sessions will be posted on the Live Events page for each course. The sessions will be recorded and posted for those who can't attend.
Finally, if you have a private question for anyone on the course staff, you can always contact the MCIT Online program team and it will be forwarded to the appropriate person.
Tutoring
MCIT Online provides various levels of support including TA office hours, recitations, program advising and peer mentoring. However, MCIT Online does not have a formal tutoring program. Students are welcome to connect with other resources as needed.
Please note that students are not permitted to reach out to MCIT Online TAs for private tutoring.
Program Requirements
Students must:
Complete the academic requirements of the degree program within seven (7) years of matriculation
Meet the curriculum requirements of the degree program
Maintain a 2.7 cumulative average. Students with a cumulative grade below 2.7 at the end of each semester will work with an academic advisor to make a plan for improving their academic performance.
Only register for MCIT Online courses. This is part of your graduation requirements. You will be dropped from any course this is not an MCIT Online course.
Students may take 1-4 courses each semester. The number of courses you take each semester defines whether you are part-time or full-time.
In your first semester, we strongly encourage you to take no more than two courses. This is a rigorous program, often requiring our students to dedicate an average of 15 hours per week or more to each course. If you are new to the online learning environment or have full-time commitments outside of the program, allowing yourself to take one or two courses rather than a full-time load can give you the time and space to adjust to the program. If you are considering your options for your first semester and would like to course plan with an advisor, feel free to reach out to the program staff.
Full-time status is defined as taking three or more courses per semester.
Part-time status students may take one or two courses each semester. Note: In order to be considered for federal financial aid, a student must be enrolled at least "half-time" which is two or more courses per semester for MCIT Online students.
Students must register for at least one course unit during the fall and spring semesters in order to remain continuously enrolled in their programs. If you choose not to enroll in any courses for a fall or spring semester, please follow our Leave of Absence (LOA) policy. (There is no need to apply for a LOA over the summer).
All students are required to be continuously registered while in graduate school, except under the following exceptional circumstances:
A student takes a leave of absence (full policy here)
Withdrawal from the University
Students who do not register each semester will be dropped from Engineering and the University.
Technical Requirements
Internet – MCIT Online is an online degree program and it is your responsibility to have and maintain internet access that permits you to receive and transmit information freely for the duration of the program. Penn is not responsible for any inability to access the program due to disruptions in your internet service, whether caused by technical problems, governmental or other third party actions.
Proctored Exams –

A few times each semester, students will take proctored exams. Please see the

system requirements

for Honorlock the

proctoring

service used by the program.

We do not recommend using a computer provided by your work. Work computers may not provide students access to install important software and corporate firewalls may prevent activities required by the program.
Registration
Penn InTouch (PIT) is your portal for all things related to course scheduling and registration. This is where you'll be able to search for your courses, read their descriptions, and add and drop the courses during the course selection period.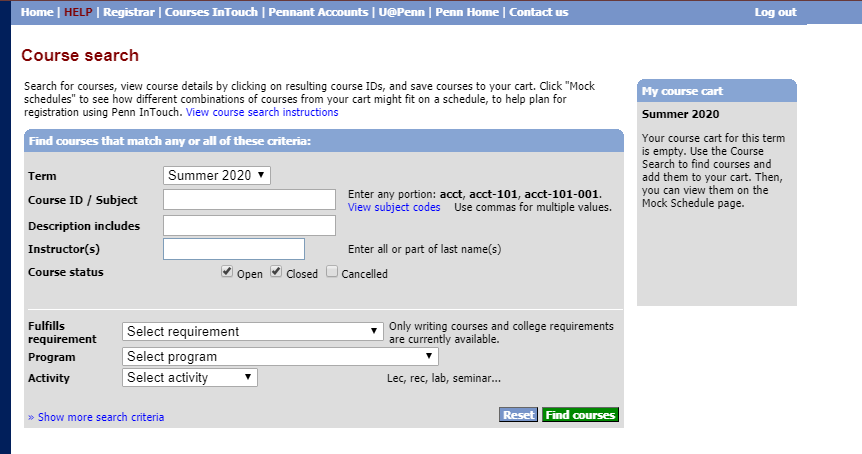 To start registering for courses:
Log in to Penn InTouch.
Go to the left sidebar. From the 'Registration and Planning' drop down, select 'Course Search'
The Course Search tool should appear (screenshot below). Select which semester you want to register for, and in the other search fields, you can enter the exact course number you're looking for, or type in 'CIT' or 'CIS' in 'Course ID/Subject' to browse CIT and CIS courses.  (Note that some of the electives are offered by different departments, e.g., ESE)
When browsing, look for course numbers ending with section number 501 (Ex. CIT 592-501). The 501 section number indicates it's an MCIT Online course.
Select the course number to read its description.
Once you've found the course you want, select "Add to cart."
When you're ready to register for your course, in the left sidebar again, go to 'Register for Courses'
You can move the courses in your cart to your course enrollments and select 'Register'
You can find the deadline to add a course or drop a course on the MCIT Online Program Calendar.
Course Waivers and Transfer Credits
Penn Engineering policy states that you are allowed to waive up to two courses and/or transfer up to two courses. A small number of students choose to waive out of a core course by taking and passing a waiver exam. Students who waive courses must still take 10 Penn courses total. Students may also transfer up to two courses (with faculty approval) which will fulfill one or two of the program requirements. Students who do not pass the waiver exam are not permitted to retake it.
Note: MCIT Online students must take a minimum of four out of the six core courses at Penn.
For inquiries about waiving or transferring credit, contact the MCIT Online program team.
Independent Study
Independent studies are not available for MCIT Online students matriculating in Spring 2021 and beyond. Requests from students who matriculated before this date will be evaluated on a case-by-case basis.
All students are welcome to apply for volunteer or paid research assistant positions at Penn.
Getting Started
PennKey
Your PennKey name and password gives you access to a Penn email account, and many other essential online services. See the PennKey website for details on obtaining a PennKey and password. New students receive the instructions for setting up their PennKey upon enrollment.
Two Step Verification
All MCIT Online students must enroll in Two-Step Verification. Two-Step is a second layer of log-in protection.
Penn Accounts
Create your SEAS account and use it to set up your University of Pennsylvania email address. (You must wait 72hours after you have activated your PennKey.)
Activate Google@SEAS for your SEAS account by setting its password. This will give you access to Gmail and cloud services.
Create a Coursera account
You will receive instructions on how to set up your Coursera account as well as access to the program onboarding course after you submit your Enrollment Form and Deposit.
Penn InTouch
While this course will be a resource on Coursera that you will refer to throughout your course of study, Penn InTouch is the University of Pennsylvania portal for academic, financial and profile information, including:
Academic records and transcript orders
Student billing and payment information
Financial aid application status and awards
Student loan application status, disbursements and loan history
Updating your emergency contacts and address information
Privacy settings for the release of academic and financial information
Direct Deposit enrollment for student refunds
Course registration and schedule planning tools
Tuition & Billing
Billing always follows course registration. Be sure to review the billing schedule for when bills are generated, as well as check your Penn Pay for your bill due date. Electronic bills or e-bills are sent from the University's Student Registration and Financial Services (SRFS) Office to a student's official email address on file and can be accessed through Penn InTouch. Please note that you will receive a notification when a bill has been generated but you will not receive a reminder when the bill is due.
Changes in registration after the second week of classes necessitate manual tuition adjustments. If you notice a mistake with your bill, please contact the MCIT Online program staff.
Ideally, a student's bill should reflect all charges and all financial aid credits for the semester in question. Frequently, University and departmental financial aid awards are credited after the date of initial billing. When this happens, the bill reflects a higher debt than the student anticipated. The student's first step is to check with their department to make sure the financial aid was credited. Students utilizing tuition benefits with questions should contact tuition@hr.upenn.edu. Students supported from outside the University should check directly with their sponsors.
The University will withhold diplomas at graduation when financial questions are unresolved. It is the responsibility of the student to keep track of their outstanding balance and to resolve any problems that might arise.
Tuition & Fees for 2022–23 Academic Year Costs
Tuition and fees for MCIT Online are based on course units. Students will complete a total of 10 course units during the program, paying each semester based on the number of registered courses. Students may also be required to purchase textbooks or supplies for a few of the courses in the program. Tuition and fees are posted as a guide and will be adjusted on a yearly basis.
Enrollment Deposit: The $300 deposit you paid when you submitted your enrollment form is non-refundable. A $300 credit will be applied to your account after the add/drop deadline has passed. This $300 credit will be applied to the tuition bill for the next semester that you register for courses.
Online students who are enrolled at least half-time* will be eligible to apply for federal student loans. International students' eligibility may vary depending upon their international status.
*For MCIT Online students, "half-time" is defined as taking at least two courses in a term.
Payment Options
You can pay your student bill through four methods of payment:
Online through Penn.Pay
Through Mail
In Person
International Banks – By Wire Transfer
Please see the Student Financial Services website for more information on how to pay your bill.
Billing Schedule & Payment Plans
You can always find the current billing schedule on the SRFS website.
Payment plans are available for the fall and spring semesters.
School of Engineering Policies
The Penn Engineering Graduate Handbook contains policies for all students in the School of Engineering and Applied Science. Below are relevant policies that have been adapted when necessary for our online students.
Academic Probation Policy (if applicable)
Master's students should maintain a minimum GPA of 2.7 at the end of every semester, and must be completing the appropriate courses in accordance with their degree program, as agreed upon with their assigned academic advisor.
Students not making satisfactory academic progress may receive a warning or be placed on probation.  In the absence of improvement in the subsequent semester, students on warning or probation may be dropped from their program.
There is a minimum cumulative GPA of 3.0 to increase registration max above 4 courses for master's students.
More information on academic credit can be found here.
Course Selection, Withdrawal, Auditing and Refund Policy
Adding/Dropping a Course
You may add courses up until the course selection deadline listed on the MCIT Online Program Calendar.
You may drop a course without financial obligation up until this same add/drop date. Tuition will automatically be refunded for the course if the course is dropped before the add/drop date. In the fall and spring terms, students may not drop a course if it is the only course for which they are registered. In this case, they would need to request a Leave of Absence as well.
Withdrawing from a Course
After the add/drop deadline has passed in a term, a student may withdraw from a course with permission from the program director. If permission is granted, a "W" will appear on the student's transcript for the course, but please note that no tuition refund will be issued.
Students can request a course withdrawal by emailing the MCIT Online course staff. Withdrawal requests will not be considered after the posted withdrawal deadline.
Auditing a Course
Graduate students who wish to enroll in a course without letter grade, must register as an auditor. Auditors pay the regular tuition charges, but receive no credit for the course. Assignments and exams are not required if properly registered and the instructor is notified. Audited courses cannot count towards the degree.  Once the course is completed, a grade of "AUD" will appear on the transcript. MCIT Online students are only permitted to audit MCIT Online courses. Note that students may not take audited courses again later for a letter grade.
Course unit (CU) registration
Maximum enrollment for MCIT Online is 4 courses. A petition and satisfactory GPA (3.0 minimum) is required for more than 4 CU's after completion of one semester.
Disability information
Any student who has a disability and wishes to self-identify with the Office of Student Disabilities Services (SDS) at the Weingarten Learning Resources Center, should complete the Self-Identification Form.  Submission of this form is the first step in the Self-Identification Process.  Any student requesting accommodations will also need to submit documentation of the disability and schedule an in person meeting as part of the collaborative process in determining eligibility for accommodations. Further questions should be directed to SDS.
Grievance Procedures Guidelines
In general, a Graduate student with a grievance should first discuss the matter with the immediate supervisor of the individual involved. In case of conflicts of interest, then the next non-conflicted level should be engaged. For academic matters the normal hierarchy is (as applicable):
a) relevant course teaching assistant;
b) relevant course faculty instructor;
c) Graduate Program Director;
d) Graduate Group Chair;
e) Department Chair;
f) Associate Dean;
g) Ombudsman.
At any point the student may wish to circumvent steps a-f and contact the Ombudsman.
If a graduate student has a grievance concerning a non-academic matter, the suggested procedural steps should be discussion with (as applicable):
a) Graduate Program Director;
b) Graduate Group Chair;
c) Department Chair;
d) Associate Dean;
e) Ombudsman.
At any point the student may wish to circumvent steps a-d and contact the Ombudsman.
Further information about University grievance procedures policy can be found here.
Leave of Absence (LOA)
Students may request a Leave of Absence for up to two years, after which time, students must reapply for admission.  Time spent in the military service and time spent on medical leave do not count under the time limit. Reinstatement is dependent upon departmental and SEAS approval.  While on LOA and not registering for courses, students may still utilize the library by requesting and paying a special service fee.
When students are ready to return after a leave of absence, they must contact the MCIT Online program team. The request must be submitted no later than thirty (30) days prior to the start of the semester the student wishes to return.
If a student is requesting a medical leave, they must inform program staff in writing. Medical documentation will be required at the onset of a medical leave and when a student wishes to return to coursework.
Plagiarism Policy
Every member of the University community is responsible for upholding the highest standards of honesty at all times. Students, as members of the community, are also responsible for adhering to the principles and spirit of the following Code of Academic Integrity.
The student will not knowingly use any dishonest method to gain an unfair advantage over other students in academic pursuits, especially through misrepresenting the originality of one's work (plagiarism), particularly through failing to footnote the contributions of another, except as permitted by the instructor.
Example: copying another person's paper, article, or computer work and submitting it for an assignment, cloning someone else's ideas without attribution, failing to use quotation marks where appropriate, etc.
If a student is unsure whether their action(s) constitute a violation of the Code of Academic Integrity, then it is that student's responsibility to consult with the instructor to clarify any ambiguities.
The University disciplinary process at Penn may involve the following stages:
Bringing a Complaint to the Office of Student Conduct
Resolving a Complaint by Mediation
Investigating a Complaint
Filing Charges by the University Against a Student
Resolving Charges by Voluntary Agreement to Sanctions
Resolving Charges by Disciplinary Hearing
Appealing the Decision of a Hearing Panel
Imposing Sanctions on a Student
Fulfilling Sanctions Imposed by the University
The University Code of Academic Integrity and Charter of the Student Disciplinary System can be found here.
Students are permitted to transfer two (2) courses from another university  graduate program. Students should submit a request to MCIT Online Program Staff.  Only courses with grades of B are higher will be considered. Courses counted towards an undergraduate degree will not be considered for graduate credit unless in an approved submatriculation program. Transfer credit must be taken prior to matriculation. Courses are held to a time limit of five years.
Course Waivers
Penn Engineering policy states that you are allowed to waive up to two courses and/or transfer up to two courses. MCIT Online students may choose to waive out of CIT 591, 592 or 593 by taking and passing a waiver exam. Students who waive courses must still take 10 Penn courses total.
Note: MCIT Online students must take a minimum of four out of the six core courses at Penn.
Withdrawal From the Program
Withdrawal from the University may be granted by first contacting the MCIT Online program team.  Reinstatement is dependent upon departmental and SEAS approval.
Should a student withdraw from the program with any outstanding Incomplete grades, those grades will be converted to an "F."
Graduation process & convocation
Filing for Graduation
It is very important to note the application deadlines for graduation:
Opens in December For May Graduation
Opens in May for August Graduation
Opens in August for December Graduation
Commencement is held once a year in May. The University and the School of Engineering invite students who graduate in May to attend commencement the year they graduate. Students who graduate in August or December may attend the May ceremony directly following or preceding their graduation. Please order cap and gown from the Penn Bookstore online by early May if you wish to participate in the May graduation ceremony. MCIT Online students will be invited to campus to participate in Penn's Commencement ceremonies in May. Attendance is optional.
Master's students applying for graduation must first contact the MCIT Online program team for instructions.
Graduation Checklist
Complete the application (see above) well in advance of the deadline.
Make sure that your financial obligations are cleared before the end of the term.
Meet with your program staff to make sure that appropriate courses have been taken for the degree.
Diplomas
Diplomas will be mailed approximately eight to ten weeks following the official degree conferral date by the Office of the Secretary.  Diplomas are issued three times a year: May, August, and December and are mailed in July (May graduates), October (August graduates) and February (December graduates).
The University will withhold diplomas at graduation when financial questions are unresolved. It is the responsibility of the student to keep track of their outstanding balance and to resolve any problems that might arise.
Information on what happens to email accounts post graduation is found here.
Alumni Relations
Upon graduation, you will have access to various resources as a Penn alum. However, the items in the list below will be available as soon you matriculate.