March 10, 2023
How Parents Complete A Master's Degree
Pursuing a master's degree might seem out of reach for busy parents who are juggling full-time jobs with family life. But the flexibility of Penn Engineering's MCIT Online program, combined with a strong system of support, means that parents don't have to put their career dreams on hold.
In a recent webinar, two current MCIT Online students talked about how they balance competing demands and busy family schedules.
Peter Jung has an undergraduate degree in pharmacy, and he works as a clinical consultant pharmacist for long-term care in Edmonton, Canada. Josiah Wilmoth has an undergraduate degree in history and recently used what he's learned from MCIT Online to transition from a role as a writer to one in business intelligence.
Here are some highlights from the webinar, which was the third episode of our "See Yourself, Be Yourself" series.
How did you choose MCIT Online?
Jung: The first reason I chose MCIT is because it's specifically designed for students without a CS background. And second, because it's an Ivy League program. And that's something that could make my family proud.
Wilmoth: Coming in without a STEM background, I was also drawn to MCIT because it didn't have an undergrad CS requirement. And the other schools with similar requirements didn't have a strong academic pedigree like Penn does. I felt confident that I was going to get the high-quality education I was looking for.
What's family life like for you?
Wilmoth: I have four kids, ages six and under. Two of them were born while I was in the MCIT program. I work full time, and in addition to that, we have a small farm with goats and sheep and chickens. Also, my wife has a small business, and I help out on business development and digital marketing for that. So we stay pretty busy!
Jung: I don't have four kids—I've got two—but family life is busy. My wife is a pharmacist, and she often works weekends. Additionally, my kids are in a lot of extracurricular activities and programs. My daughter does figure skating every day, my son skates twice a week, and they're both in tennis and swimming.
How do you juggle school with family life?
Wilmoth: The online flexibility of the program has been crucial. I don't know if I could have managed an on-campus program. Also, I try to plan my class schedule based on what I have going on in my life. During the summer semester, my youngest son was born, so I tried to pick a course that didn't have the heaviest workload.
Jung: I do my classwork mostly at night when the kids are asleep. And I always have my laptop or iPad handy so I can study when they're skating or things like that. I also use weekends for catching up on homework or studying for exams. I try to utilize and maximize my time output as much as I can.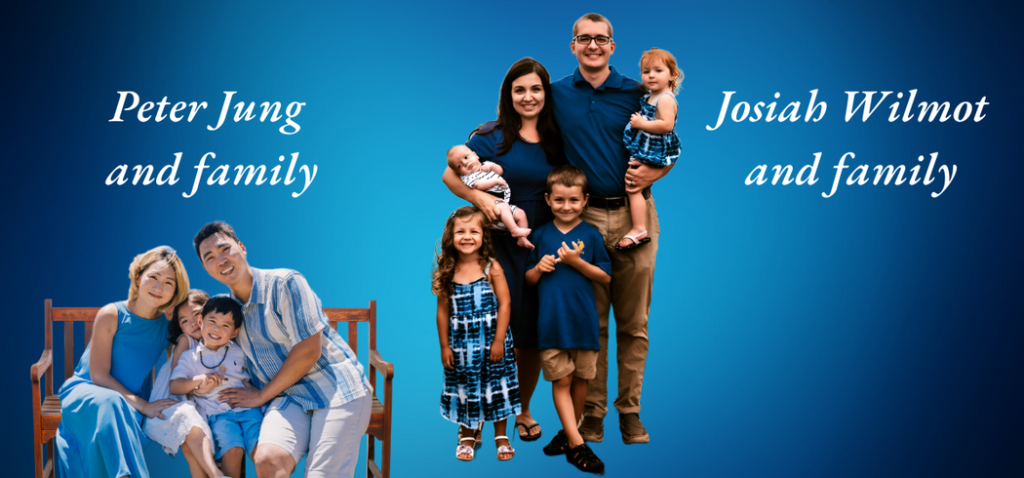 What tools or resources help you manage your time?
Jung: I rely heavily on cloud systems like Google Calendar. I have access to my wife's work schedule and my kids' activities throughout the week or month. We don't even need to talk about what to expect and where to be since it's all on our Google Calendar.
Wilmoth: Google Calendar's the big one for me as well. You can import all of your due dates and TA office hours from the Penn calendar onto your work calendar, so it's all right there.
How do you connect with other students in the Penn Engineering community?
Wilmoth: There's a great community on Penn's Slack, which helps you not to feel isolated. The other big thing for me is the Ed Discussion forum, where we can leave questions for TAs and get an answer pretty quickly. It's really nice to not have to be online at a specific time to get help.
Jung: The Slack community definitely is the most active and vital channel for our community, because it involves both casual and academic advice or conversation. And the ED platform is also great—you can post the question before you go to work, and during lunchtime you can see your question being answered.
Josiah, coming from a background in the humanities, how did you demonstrate your quantitative ability on your application?
Wilmoth: I was a history major, and the highest level of math I had taken was high school Algebra II. But after I graduated I went back and took some community college classes in electrical engineering. That required me to bone up on some of the math things that I'd missed. I also got a letter of recommendation from one of my electrical engineering professors.
So if you're nervous about MCIT because you don't have the strongest math background, I'm proof that it's possible!
What advice do you have for students who have a busy lifestyle and want to join Penn Engineering Online?
Jung: The best thing is to have a clear, transparent conversation with your entire family, including your kids and your in-laws, even your parents. And planning things out together with your family members is really important. My kids seem to be more accepting if I tell them ahead of time that I won't be available to play with them. And if you can get help, like from your parents or from your in-laws, take it—because every minute counts. Wilmoth: For me and my wife, what's been most important is setting clear expectations and communicating well. For example, we agree on what my school schedule's going to be, so my wife and kids know when I'm in school mode. And then if I have a big project that's going to take me longer, I tell my wife days in advance.