December 23, 2021
Happy Holidays from Penn Engineering Online
In the spirit of the holiday season the Penn Engineering Online staff would like to share with you some of their excitement and insight into the things that they cherish.
You could find Hope McCoy, Kathleen Sheehy, and Adrienne Yoder embracing their musical side either playing seasonal tunes on the piano, out caroling, or singing The Messiah by Handel. Mark Takakjy and Mel Wellman enjoy baking delectable treats in the kitchen.
Jeanne McFadden appreciates it all. She says, "I love decorating gingerbread houses with my family with a holiday movie marathon playing in the background. We use an absurd amount of candy and have a lot of fun taste testing the decorations."
Kristopher Elmer's family gathers from across the country to be together! The joy of congregating and the spirit of the season makes Kris feel like a kid again. On Christmas Eve you can find Dylan Fenton and his family at a candlelight service. Diane Hoffstetter's family enjoys a Christmas afternoon picnic when they are all together.
A caffeine pick me up can be a necessity during the hustle and bustle of the season. Out of the Starbucks seasonal drinks 26.7% of respondents to the
Penn Engineering Online Staff Holiday Poll stated that their favorite drink is the Peppermint Mocha. There is also the other 26.7% of respondents that are brave souls who don't subscribe to the coffee craze.
When it comes to holiday mischief you better watch out for this crazy group. 78.6% of respondents said to bring on the chaos because they would happily be friends with the Grinch.
After that, it is not a big surprise that 66.7% of respondents adamantly agreed that Die Hard is a Christmas movie.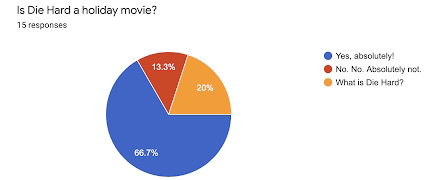 As the cold weather closes in around us here in Philadelphia the staff is starting to prepare for their winter activities. 26.7% of the respondents said they would enjoy a weekend on the slopes either skiing or snowboarding. Though, the preferred choice by 46.7% is to curl up on the couch with their favorite hot beverage and enjoy a book or movie.
Before we depart for the holiday break, the staff would like to leave you with some well wishes and words of wisdom.
The best part of the season is remembering those who make the holidays meaningful. Wishing all of Penn Engineering all the love and happiness this season can bring! -Jeanne McFadden
Your loved ones need your presence more than your presents…remember that! 🙂 -Kristopher Elmer
Take some time to do the things you enjoy simply because you deserve to. -Mark Takakjy
Wishing you peace, joy, and hope this holiday season! – Dylan Fenton
I would like to wish everyone a safe and pleasant holiday season! -Mel Wellman
Merry Christmas from sunny California! -Diane Hoffstetter
Happy Kwanzaa! -Hope McCoy
I hope those who celebrated earlier this year had a happy Hanukkah. May those who are celebrating Christmas have a merry one and to those who are celebrating Kwanzaa may you have a joy filled holiday season. -Coley Coleman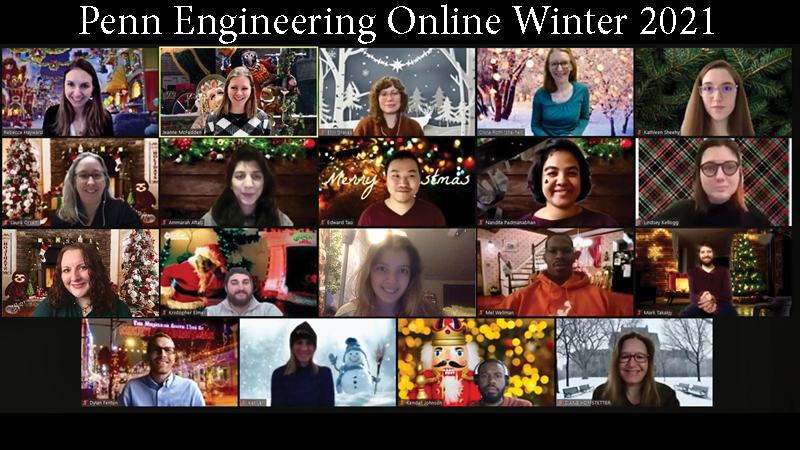 May you all have a wonderful holiday season and a happy new year!