February 17, 2023
An International Student Perspective
International students face specific challenges when enrolling in online graduate programs at an American university. How do you get to know other students? How do you collaborate on group projects with classmates who live on the other side of the world?
A recent webinar brought together two MCIT Online students to answer those questions and more. Alberto Rusconi, who is originally from Italy, has an undergraduate degree in European modern history and a master's in corporate communication. He currently lives in France, where he works in technical support for an e-commerce platform. Chukwudire Uba was born and raised in Nigeria and moved to Budapest to study electrical engineering as an undergraduate. Today, he works in cybersecurity.
The webinar was the second episode in our "See Yourself, Be Yourself" series. Here are some of the highlights from the event.
Why did you choose Penn Engineering Online?
Alberto Rusconi: The program was a perfect fit for me. If you are coming from the humanities, it's not that easy to find a program that helps you progress to an advanced level. In addition, I'm a full-time worker, and it's not easy to find a program that's really flexible.
Chukwudire Uba: I did a lot of research. I reached out to students in the program, and I looked at other programs as well. During my research it became clear that MCIT Online provided a lot of support. Also, because it's an online program I was anxious that I might not know anybody. But during my research I learned that students collaborate and have a lot of options to connect.
How do you connect with other students in the program?
Uba: One way I'm part of the community is through Slack. It's a workspace where you can join different channels; for example, if someone travels to a different city, they can ask, does anyone live in this city? And they're usually able to find someone who lives there. I see a lot of global connections happening on Slack.
Rusconi: I'm lucky because in Paris there are other students based here, so I was able to meet in person several times with them. I also met one of the peers that I work with in some of the group assignments. So it was nice to say, hey, let's have a drink and then work on the deliverable that we have to do.
Uba: Through the Slack channel I met a student who's now an alum. He used to work for Amazon, so it's nice to hear about his experience and see how the skills he picked up from MCIT were transferable to his job. Now he's an additional resource—someone I can go to for further explanations or to ask how he balanced the workload.
What are some other ways to connect with students?
Rusconi: I found that a good way to make connections and friends was to join the MCIT Online Student Association, MOSA. I joined MOSA a few months after I started the program, and for one year I led the association as the co-president.
At one board meeting, there were people connected from Philadelphia, France, Switzerland and also Pakistan. So we're spanning almost all around the world from three different continents. That's really enriching, because in this way you meet people and hear stories that otherwise you will never come across.
Uba: I'm a member of the Penn Quant Association, and there are other groups and student clubs you can also join.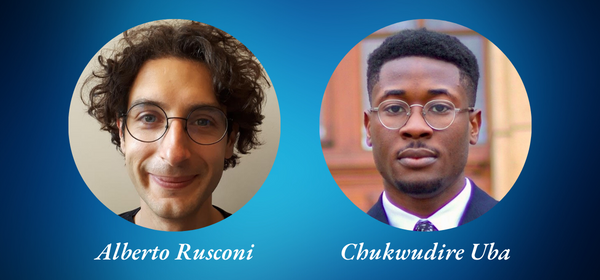 Are there group projects in your classes? What's that experience like?
Rusconi: There are many opportunities for group projects. For one class, I worked with a student who was based on the East Coast, so we had a six-hour time difference. But we never had problems meeting because we found good times for both of us. MCIT Online students are always willing to collaborate and go the extra mile.
Uba: For one project I worked with someone in the U.S. Like Alberto said, we were able to find a time that works for both of us. Someone stays up late one night, and the other person does the opposite the next day. In another project my teammate was here in Europe, so it was easy to work together. We met up in the evenings on Zoom and worked together and talked, and it was fun.
What advice do you have for international students who might be considering Penn Engineering Online?
Rusconi: Joining a student association is a very good start. We have MOSA, and it is also possible to join other clubs. Also, the Student Affairs team organizes chats and coffee sessions. So there are a lot of opportunities.
Uba: One piece of advice I would give is that it's a very good program, but it's also very demanding, so you should have a good strategy as to how you go about your schoolwork.
And if you need extra support, TA office hours run all through the week and they happen in different time zones. Everyone, regardless of where you are, can get support. It's a challenging program, but you have all of the support there for you.