April 07, 2023
Returning Learners: Making It Work
What does it take to get back into learning mode when it's been years since your college graduation? In a recent webinar, four MCIT Online students shared how faculty and peer support has helped them make the transition to graduate study.
The webinar was part of "See Yourself, Be Yourself," a weeklong series focusing on the MCIT Online experiences of students of color, international students, women, and students with families. Here are some takeaways from the conversation with our returning learners.
The Path to MCIT Online
Students come to MCIT Online from a wide variety of academic and professional backgrounds and from all over the world—and their motivations for going back to school are just as diverse.
Oiza Baiye, who worked in the nonprofit sector before pivoting to a software engineering role at a startup, said she pursued MCIT Online because without a computer science background, she lacked key knowledge.
"I asked people at my workplace, 'How did you get to where you are?' And every single person either studied computer science or used to read computer science textbooks for fun," she said. "It was clear that you need computer science knowledge to advance in the field."
For Brian Chin, who earned an MBA in 2010 and works in the space industry, the increasing importance of technology in the world was a prime motivator. "With the introduction of chatGPT and AI and ML, it seems like almost every industry will be influenced by these applications in the near future," he said. "I felt it was important to be ahead of the curve and start learning some of those topics."
With a background in management consulting, Courtney Walsh recently launched a software company focused on increasing access to consulting tools. But she soon realized that her lack of technical expertise put her at a disadvantage in working with software developers.
"It's hard enough starting a software company as a woman and not having a technical background," she said. "I realized that a computer science toolbox would really be empowering on this journey."
Ramanpreet Bhatia '22 has an MBA and worked for nine years as a business analyst and a program manager before pivoting to software engineering.
"My journey to Penn Engineering was fueled by my desire to make a positive impact as a woman of color in the field of software engineering," said Bhatia. "I was aware of the low ratio of women in the field, and I wanted to be part of the solution to bridge that gap."
Update Your Skills
As a working professional, how do you get ready to jump back into a structured learning environment? Panelists agreed that revisiting skills and concepts was critical, along with getting into the right frame of mind.
"I decided to take the GRE, even though it was optional, to demonstrate my quantitative ability and to brush up on mathematical concepts," said Chin. "I also took Computational Thinking for Problem Solving, an open course that Penn hosts through Coursera. That was a great way to start framing things in a different way."
Bhatia also updated her skills, learned more about Python, and networked with MCIT Online alumni. "I also mentally prepared myself for the academic commitment," she said. "Just come with an open mind and a positive attitude."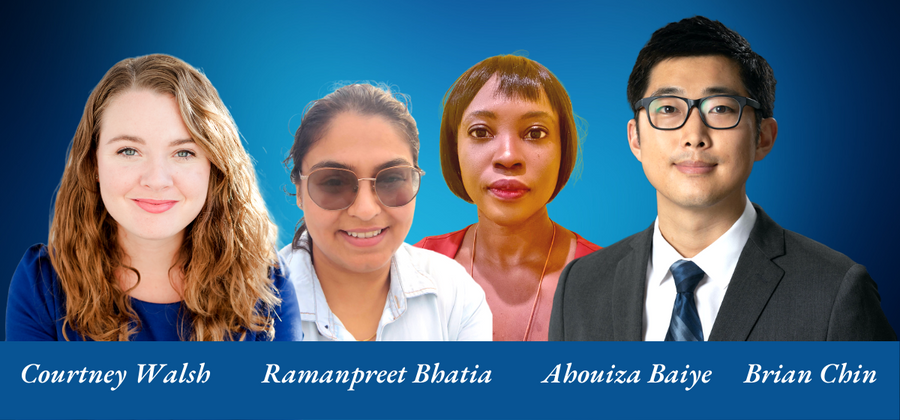 Prepare for a New Way to Learn
Education has changed a lot in recent years, including the move to online and asynchronous classes. Knowing what to expect can make the transition easier, panelists said.
"There are a lot of benefits to online and async, because you can fit classes around your schedule," Baiye noted. "But you have to be proactive to get support and to feel camaraderie. One thing that helps is course-specific Slack channels where you can talk to people who are in the same course."
Take Advantage of Resources
From office hours and mentorship to a robust Slack community, Penn Engineering Online supports students in learning, making connections and building skills.
For Walsh, who said she's used just about every available resource, office hours are most critical. "The TAs schedule office hours during the workday, mornings and evenings, because people are all across the globe," she said. "For one class, I went to office hours probably every single day. I became best friends with a couple of the TAs."
Penn's location-based Slack channels are another key tool for students. Baiye said she's participated in meetups in Toronto, and Chin noted that the Los Angeles channel is especially active. "We have tons of events and meetups with people all over Southern California," Chin said. "It's a pretty great way to not feel isolated."
Remember Why You're Here
The panelists emphasized that although the program can be challenging, it's important not to get discouraged.
"Because it's for people who have nontechnical backgrounds, some of the concepts in the first few classes require a different way of thinking," said Chin. "But just give it time. Stay the course and take pride in accomplishing something challenging."
Walsh added that it's helpful to keep your goals front and center. "Remind yourself of why you're there and enjoy learning these new skills," she said. "I'm in my mid-30s, and it's really rewarding to find out that my brain is not fully formed and the neuroplasticity is still working."