March 29, 2023
Diversity In Tech: The Student Perspective
Latine workers account for just 9 percent of the US engineering workforce, while Black engineers are even more scarce at 5 percent. What is Penn Engineering Online doing to help close the gap, and why is representation important?
A recent webinar brought together an MCIT Online student and a recent alum to discuss these issues. Brianna Malcolm, who studied mechanical engineering as an undergraduate, works full time as a mechanical hardware design engineer at IBM. Mai Nguyen '22 majored in chemical engineering and recently pivoted to a software engineering role after working as a chemical engineer in the water treatment industry.The webinar was part of Penn Engineering Online's "See Yourself, Be Yourself" series. Below are excerpts from the conversation.
What sparked your interest in the tech industry?
Malcolm: My interest in tech started in middle school. Growing up, I would do a lot of projects around the house with my dad, like building bookcases or model cars. I thought it was so cool. My dad suggested that I look into engineering, and here I am—still an engineer and loving it.
Nguyen: In my previous job I did some control programming and dabbled a little bit in data analytics and data science. I was interested in applying my engineering background to a more data-focused setting and was exploring a career transition to either data science or software engineer.
How does Penn Engineering Online foster inclusion?
Nguyen: There's a tremendous sense of community, and everyone is willing to help one another. Our Slack community is very active, and it's easy to find people with similar interests. I've personally found coding buddy groups, gardening groups—all that fun stuff—and met incredible friends there.
Malcolm: My experience has been very similar. There are coffee chats and other virtual events; for example, I went to a session about how to live a happy life. So it's not just engineering all the time. There's a community for you at Penn.
How do you connect with other students in your courses?
Malcolm: I send messages on Slack, like "Hey, I'm struggling to grasp this concept. Does anybody want to form a study group with me?" It's great to reach out and get to the nitty gritty to better understand the material.
Why is it important for more students of color to join the tech industry?
Nguyen: As a woman of color in a male-dominated field, I see representation as a super important part of how I think about my career goals and motivation. No matter how you identify yourself, it's always inspiring to see people with similar backgrounds succeed and achieve goals in the same field.
Malcolm: Representation is a topic that's near and dear to my heart. It also allows for diversity of thought. With complex problems, you can't come at them from just one point of view. Getting a better product that's more inclusive requires different minds, different backgrounds, and people of color.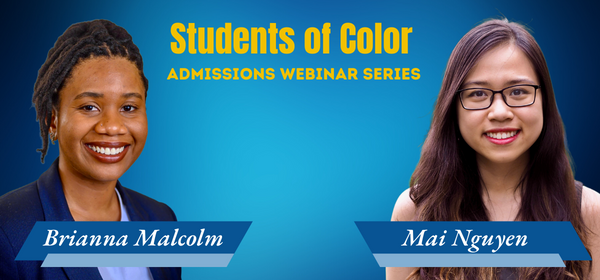 Are you starting to see more focus on diversity in your workplace or in the tech industry in general?
Malcolm: It is slow in my area. I've noticed that there's more focus on that in larger cities, and it's more obvious in advertisements. But more factory-like settings still have the old school of thought. But in the time that I've spent at my company, I've noticed things are slowly changing.
Nguyen: In my company, I see initiatives being created. I also see a sense of celebration for diversity, which I definitely appreciate.
Are there specific student services that have helped you through the program?
Malcolm: I love office hours. Honestly, I didn't really focus on my coding classes in undergrad, so I need a lot of help. Another thing that has helped is the Ed Discussion forum, because the TAs are better able to diagnose on their own time instead of doing it on the spot in office hours. So there are a lot of tools to help you understand the material.
Nguyen: I would be remiss if I didn't mention Emily, our director of professional development. Emily hosts webinars to help students find jobs and internships, and she walks us through how to tailor our resumes to our background. That's very important because everyone in MCIT has a different story, and putting that story on one page can be difficult.
What advice would you give to students coming into the program with similar backgrounds as yourself?
Nguyen: Be yourself and stay engaged. And don't be shy about reaching out. The most enjoyable moments for me were when I was willing to get out of my comfort zone, reach out for help and meet new people. Our community embraces and celebrates diversity, and I felt supported whenever I shared my stories.
Malcolm: I would say that you belong here, and you were accepted to the program for a reason. And you don't have to do it all by yourself. There's office hours, you can talk to TAs, there are communities on Slack and meetups. The staff does an incredible job of making sure everybody can be successful in this program despite the time zone differences.