September 23, 2021
2021 SPARC Competition & Symposium
Penn's online Master of Computer and Information Technology degree brings together a global network of lifelong learners from a variety of disciplines and industry backgrounds that are all working toward the same goal — expanding their understanding of computer science and gaining the skills necessary to succeed in the technology sector.
To foster the development of technical skills and abilities, Penn Engineering Online's dedicated Career Services team ran a summer-long competition — SPARC (Side Projects for Advancement, Refinement and Collaboration). MCIT Online students formed small collaborative teams that designed and developed their own coding projects. The competition was designed to showcase the students' technical skills and abilities, organization, time management, enthusiasm, and creativity.
At the end of the summer, MCIT Online judges (Dr. Tom Farmer, Prof. Brandon Krakowsky, and Prof. Mohammed Javad Amiri) reviewed all project submissions. Eight finalists were chosen to compete for the grand prize of $200 per person to be reimbursed toward a professional development opportunity.
SPARC'S winning team was chosen based on their ability to successfully highlight the project's purpose , technical interventions, building process, and intended results. The team also demonstrated skills that are key to their future success as MCIT online students and in their chosen careers such as good communication, collaboration and the ability to develop and learn a new skill quickly.The success of the program resulted in a wide range of inspiring projects, including: tackling technical interview prep; bringing classical Chinese paintings to a wider audience; assisting speech therapists working with adult audiences; making online fashion purchases more inclusive; determining centrally-located activities in NYC; gamifying positive reinforcement to create healthy habits; and mapping real-world stock movements to reddit sentiment. We are excited to share with you The SPARC 2021 winner and finalists.
Join us on September 24, 2021 for the SPARC Symposium!
The SPARC Symposium will be a series of presentations throughout the day of Friday, September 24th (see schedule and meeting information below).
| | | | |
| --- | --- | --- | --- |
| Team Name | Presentation Time (EST) | Zoom Link | Passcode |
| Event Kickoff | 8:30-8:45am | Join Here | 137123 |
| MCITMocks (SPARC WINNERS) | 9:00-9:30am | Join Here | 047745 |
| Speech Sets | 10:00-10:30am | Join Here | 509830 |
| Penn Chats | 2:00-2:30pm | Join Here | 352824 |
| MeMeasure | 4:00-4:30pm | Join Here | 285597 |
| NeuraInk | 5:00-5:30pm | Join Here | 124433 |
| HappiDo | 6:00-6:30pm | Join Here | 224307 |
| Saunter | 7:00-7:30pm | Join Here | 714353 |
| WallStreetBets Sentiment Analysis | 8:00-8:30pm | Join Here | 294007 |
---
SPARC 2021 Winner
Project Name: MCITMocks
Description: MCITMocks is a platform used to coordinate and facilitate technical mock interviews between students of the MCIT program. Using MCITMocks, students can find a matching partner and schedule a mock interview session. The app provides everything you need for the interview – including technical interview questions, a live coding interface, and a video feed of both the interviewer and interviewee. MCITMocks provides opportunities to leverage the MCIT community, connect students with each other, and help students practice for technical interviews in a safe, learner-friendly environment.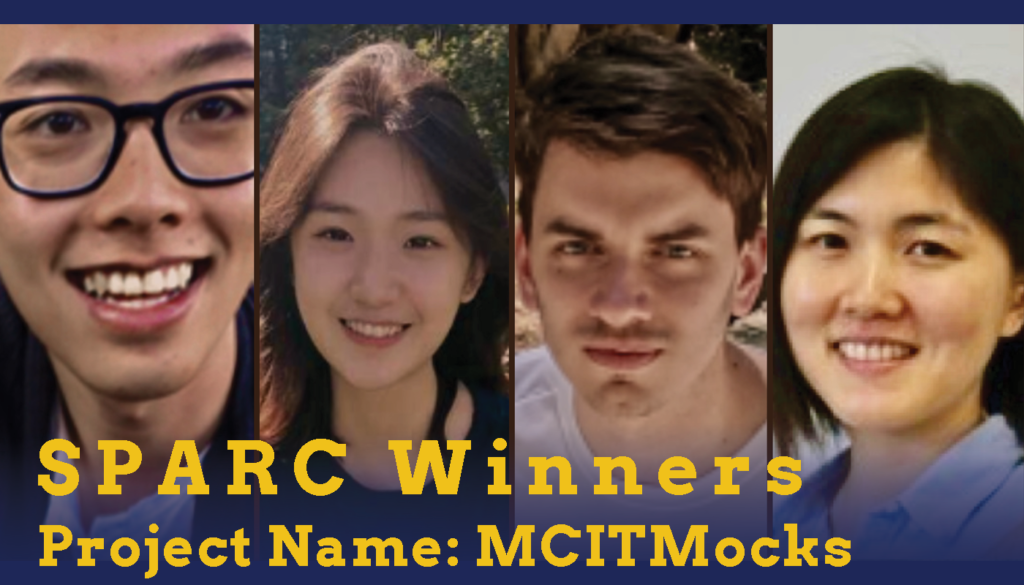 ---
SPARC 2021 Finalists
Project Name: Speech Sets: A Speech Therapy Word List Generator
Description: A website that generates lists of words and phrases for use in speech therapy. Many older adults face health conditions that can affect their speech, yet existing speech therapy apps and websites are designed to appeal to kids, with cartoonish pictures and childish vocabularies. This website will allow speech therapists and their patients to instantly create large sets of words for speech practice, and tailor them based on the needs and interests of older adults.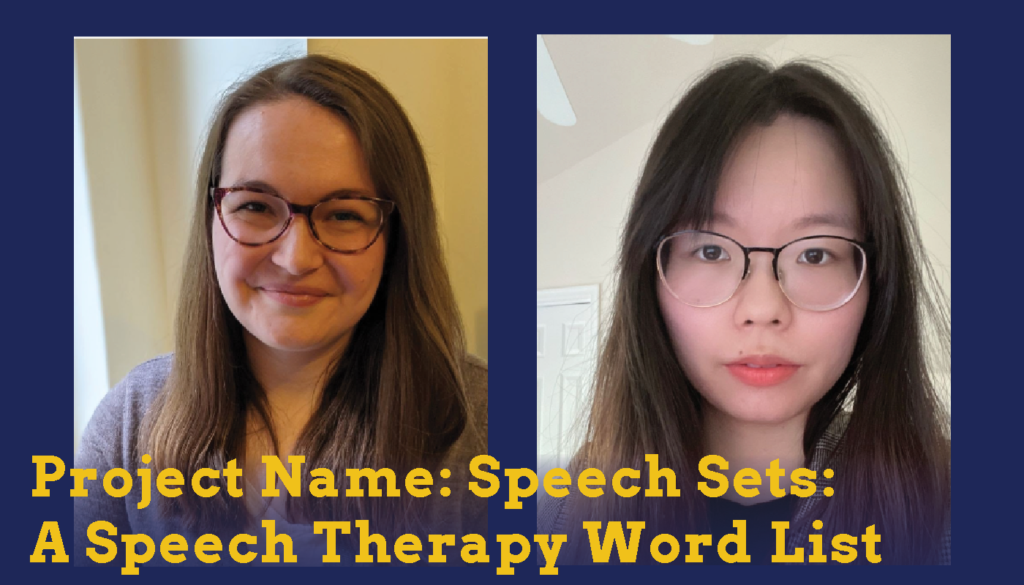 ---
Project Name: Penn Chats
Description: Penn Chats is a dedicated platform that enables MCIT Online students to strengthen connections within the student community. Through Penn Chats students will be matched with a group of peers based on a predetermined set of criteria such as their geographic locations, enrolled coursework, hobbies and career aspirations. The platform will then help groups facilitate a time to meet and chat. We envision Penn Chats offering convenience to networking and enriching conversations to the MCIT Online community.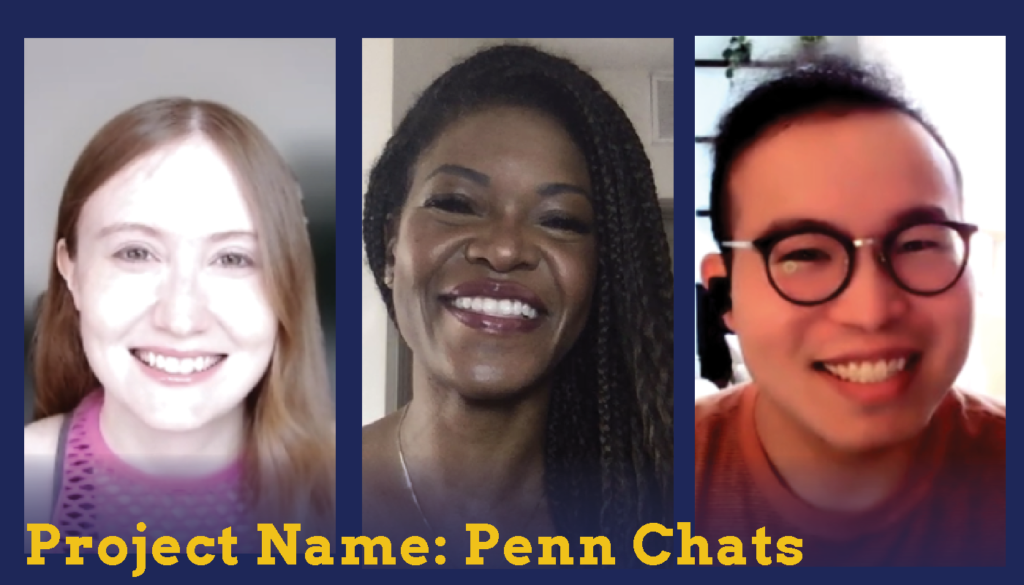 ---
Projet Name: MeMeasure
Description: The worldwide online fashion industry is expected to be a $700B+ market in 2021 and expected to exceed $1T in 2025. Given the diversity of human body types and measurements, finding clothes that fit a particular person can prove challenging in the virtual world. The goal of our project is to create a prototype web application that can estimate body measurements for clothing (e.g., neck, bust, inseam, hip) in real-time. The solution will be browser-based (mobile and desktop), using JavaScript, Tensorflow.js and React.js.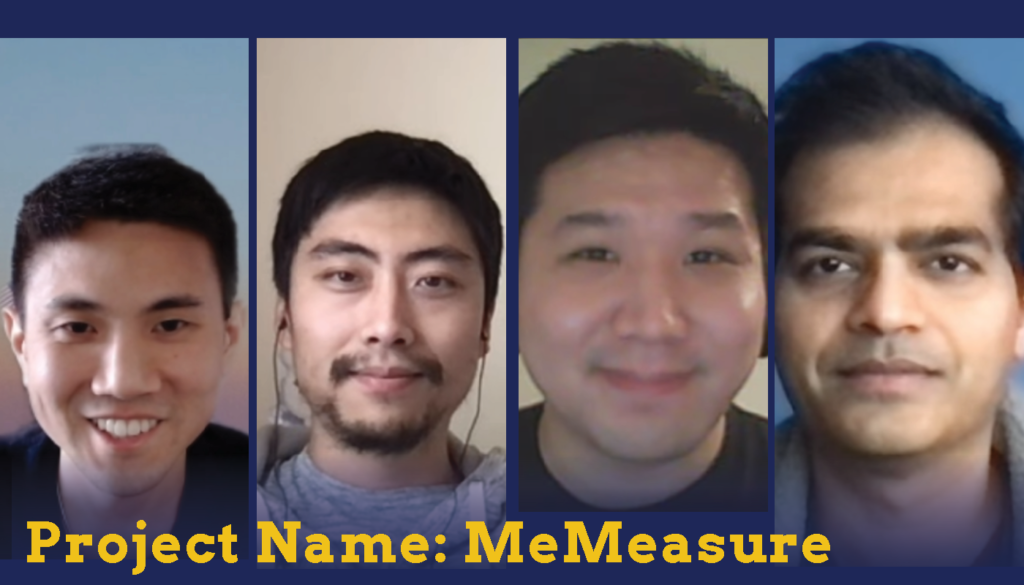 ---
Project Name: NeuraInk
Description: NeuraInk transforms user-input landscape photographs, portraitures, and animaliers into classical Chinese paintings via deep learning. A full-stack web application, its React-based frontend delivers a device-agnostic interface that simulates mobile-like user experience. Hosted on a public cloud, its backend operationalizes a novel generative adversarial network that accounts for the genre and style-specific characteristics of ink-and-wash paintings. Through this, we advocate for a more inclusive approach in neural style transfer implementations beyond their Eurocentric limitations.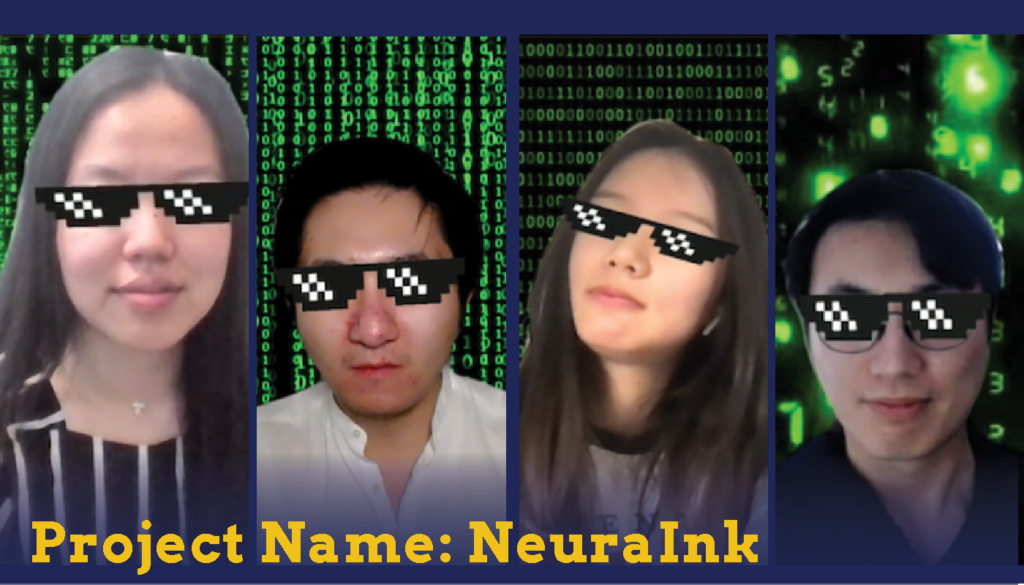 ---
Project Name: HappiDo
Description: HappiDo is a gamified solution designed to motivate and incentivize good habits by allowing parents to assign tasks to children and monitor their progress and completion. Points will be accumulated as tasks are completed and then redeemed for rewards. The goal is to provide parents with a powerful positive reinforcement tool to help their children create good habits and healthy routines.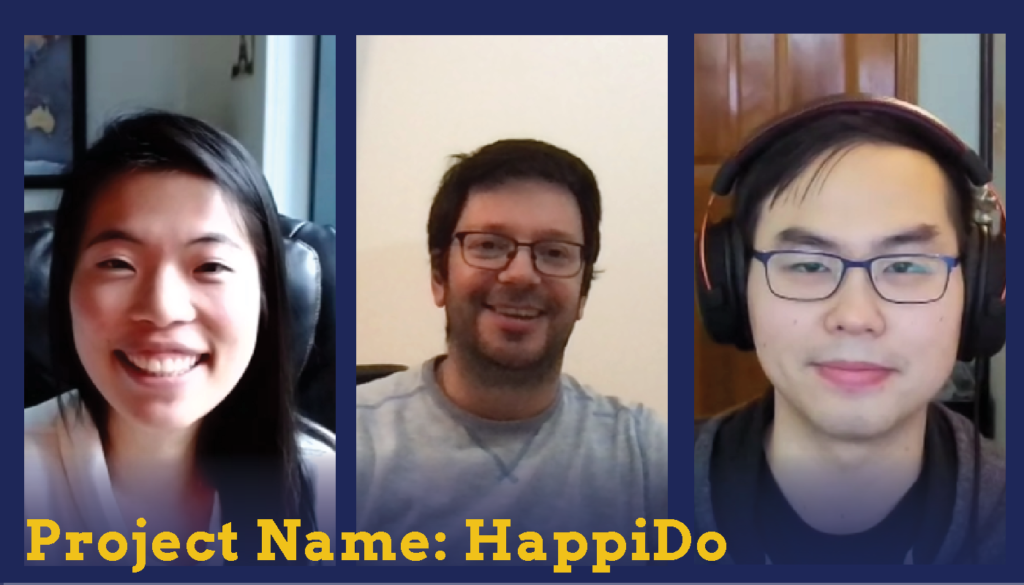 ---
Project Name: Saunter
Description: With all the possible transit options available to New Yorkers, it can be challenging to find somewhere convenient for two friends to meet. Saunter offers an easy way for people on different sides of town to find centrally located neighborhoods and activities. Saunter will take two addresses or neighborhoods as an input and ask the users for their preferred mode of transportation (walking, driving, public transit, and biking). The app will output a list of centrally located areas, equidistant in travel time from both locations.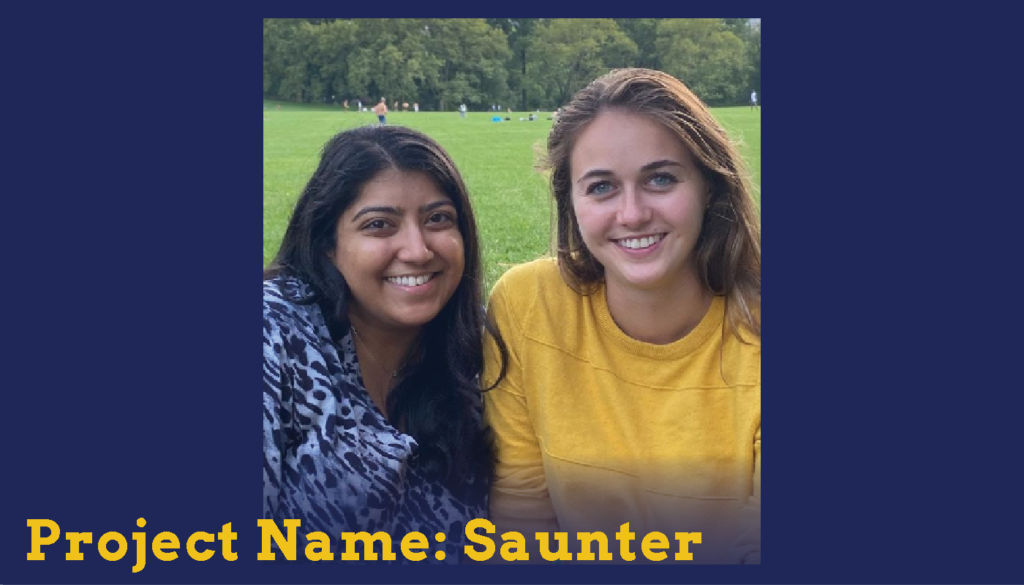 ---
Project Name: WallStreetBets Sentiment Analysis
Description: Reddit, considered the vital pulse of the internet, is a social platform driven by the sharing of public sentiment across over 100,000 active communities. Our group will leverage the power of sentiment analysis using transfer-learning from established natural language processing (NLP) models to extract the ideas, beliefs, and opinions on stocks and trading opportunities from the members of the r/WallStreetBets subreddit into a database. From there, we will overlay our sentiment analysis data against data from real-world stock movements. This will enable us to determine whether the r/WallStreetBets community influences the stock market in any significant way and if it can serve as a useful model to predict future trends in trading and therefore, trading opportunities. Our project is a real-life application of identifying and predicting trends from a community using data analysis and deep learning to allow individuals to make more informed decisions on stock trades.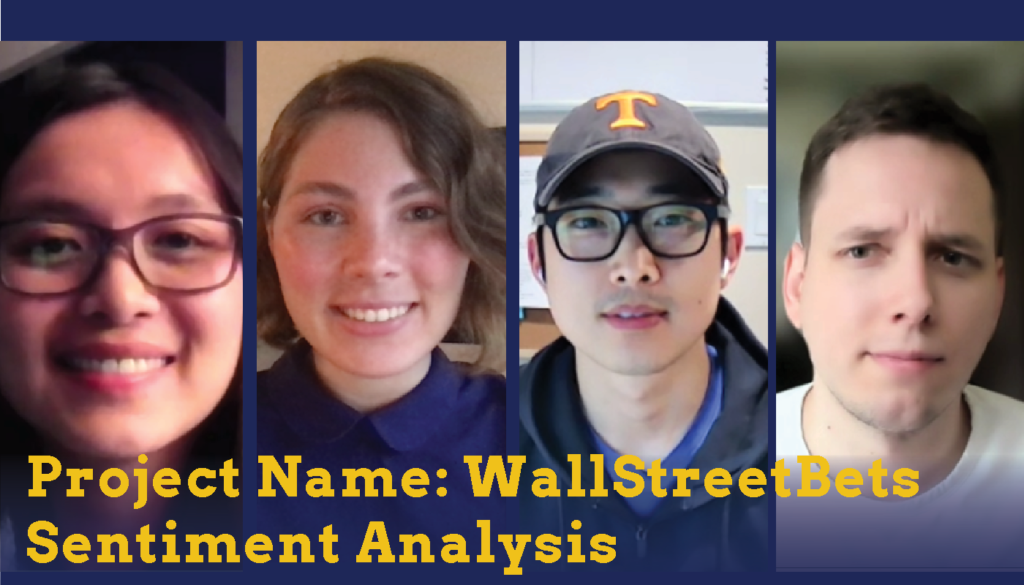 Congratulations to the winners and finalists of Penn Engineering Online's SPARC 2021 Competition. We're inspired by the projects you created and the solutions you pursued!