November 11, 2021
Meet Dr. Tom Farmer, MCIT Online Program Director
Dr. Tom Farmer knows what it's like to earn a master's degree while working full time—because he's done it himself.
Back in the late 1990s, Dr. Farmer was working at AT&T Labs as a programmer when he decided it was time to pursue a graduate degree. So he enrolled in a part-time computer science program that combined in-person classes with the rudimentary level of online instruction that was available at the time.
"I took one online class. They sent us video recordings of the lectures, and we did all our homework remotely," he said. "We had the basics, but it was pretty miserable because at that time the technology just wasn't there yet."
He commuted to campus for the rest of his classes, spending a lot of time on the road. Despite the challenges, though, he says he's glad he got some work experience before going back for a master's.
That learning experience encouraged him to go on to earn a PhD in computer engineering at George Washington University. Lacking a background in computer engineering, he had to take courses at the undergraduate level. That led to an opportunity to work as a teaching assistant—which in turn led him to reconsider his career goals.
So after completing a postdoctoral fellowship through the National Research Council with the U.S. Army Research Laboratory, Dr. Farmer started looking for opportunities in academia. A lectureship at the University of Pennsylvania that combined computer science with electrical engineering proved to be the perfect fit.
Penn's on-campus MCIT program was relatively new when Dr. Farmer joined the faculty. Because of his deep experience in both hardware and software, he was soon asked to teach the program's core Computer Architecture course, which brings together concepts about both hardware and software.
When Penn introduced MCIT Online, Dr. Farmer jumped at the chance to work with a team of instructional designers to reimagine the class—his favorite—for the virtual environment.
"Redesigning the course gave me the chance to work with professionals who were committed to creating a consistent, beautiful learning experience for students," he said. "It wasn't just converting it to an online format. We worked hard to leverage the capabilities of the virtual environment to create something new."
Today, as Program Director of MCIT Online, Dr. Farmer continues to enjoy teaching. And, he says, he particularly values working with students who don't have a background in computer science.
"Our students come to us with wonderfully diverse backgrounds—everything from art history majors to physicians," he said. "I love showing students how our courses relate to their background and getting them excited about computer science."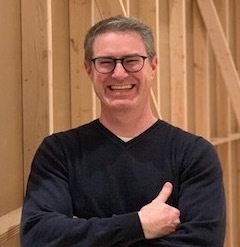 Program Director, Online Master of Computer and Information Technology
Senior Lecturer, Department of Electrical and Systems Engineering & Department of Computer and Information Science
Email: tfarmer@seas.upenn.edu